Day 1 (9/15/20)

Day 2 (9/16/20)

Day 3 (9/17/20)

NEMSIS Stakeholders, due to concerns about COVID-19 the NEMSIS Annual Meeting has been moved to an online format.
2020 NEMSIS v3 Implementation Meeting
The Annual 2020 NEMSIS v3 Implementation Meeting will be held virtually via Zoom on September 15th, 16th, and 17th, from 9 am – 1 pm (MT).
Session topics include:
National Custom Elements
v3.5 is Coming! Tools, Training, and Support
Improving Health Information Exchange/Bidirectional Flow of Data
ET3: Everything You Want to Know
Suggested Lists to Defined Lists
National Health Crisis: COVID-19 Related Changes
State Data Managers/EMS Directors: Data Sharing NASEMSO Resolution
NHTSA's Office of EMS: Guidance for the Future
Data Submission Lag: Barriers and Solutions
EMS Software Vendor Compliance Q&A
EMS & HIPAA: Facilitating Data Exchange
Open Discussion Forum
Download the 2020 NEMSIS v3 Implementation Meeting flyer here: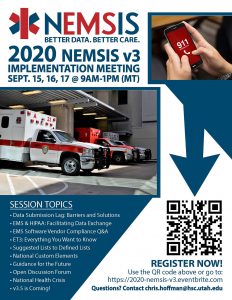 Registration is free and available now by going to https://2020-nemsis-v3.eventbrite.com.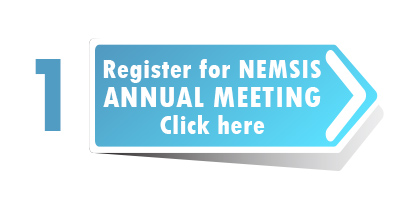 2020 NEMSIS Boot Camp (State and National Offices of EMS only)
We hope you will also join us on August 25, 2020, from 9 am to 12 pm Mountain Time when the NEMSIS team will be providing hands-on instruction for State Data Managers and state officials who are responsible for the collection, maintenance, and distribution of EMS data at the state level.
Download the 2020 NEMSIS Boot Camp flyer here: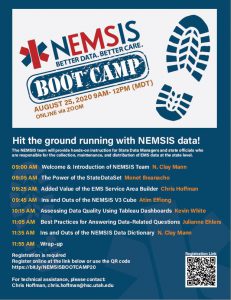 Register for the Boot Camp at this link: https://bit.ly/NEMSISBOOTCAMP20