EMS Data Explorer
The EMS Data Explorer formerly called "EMS Data Cube" has been developed to provide access to NEMSIS data. The authorized users have general data browsing access to a subset of elements extracted from the National EMS Database.
Create a report using the EMS Data Explorer
Review which NEMSIS National Data Elements can be extracted.
Review a brief tutorial for quick tips and a better experience.
Use Internet Explorer browser for optimal performance.
Get started! Practice is the best teacher.
To access the EMS Data Explorer
Use the username and password listed below:
Username: nemsispublic
Password: Nemsis@tac
A series of tutorials have been created to familiarize the user with the tools and features and we STRONGLY encourage review of the tutorials before attempting to use the data explorer interface.
NEMSIS V2 EMS Explorer Data Dictionary:
The NEMSIS EMS Explorer has been modified to allow for multiple entry configurations of certain data elements within the explorer. The Data Dictionary, Element and Values List, and Query Manual will be useful for generating reports.
Explore data from the EMS Data Explorer – based on Type of Service Requested and Calendar Year.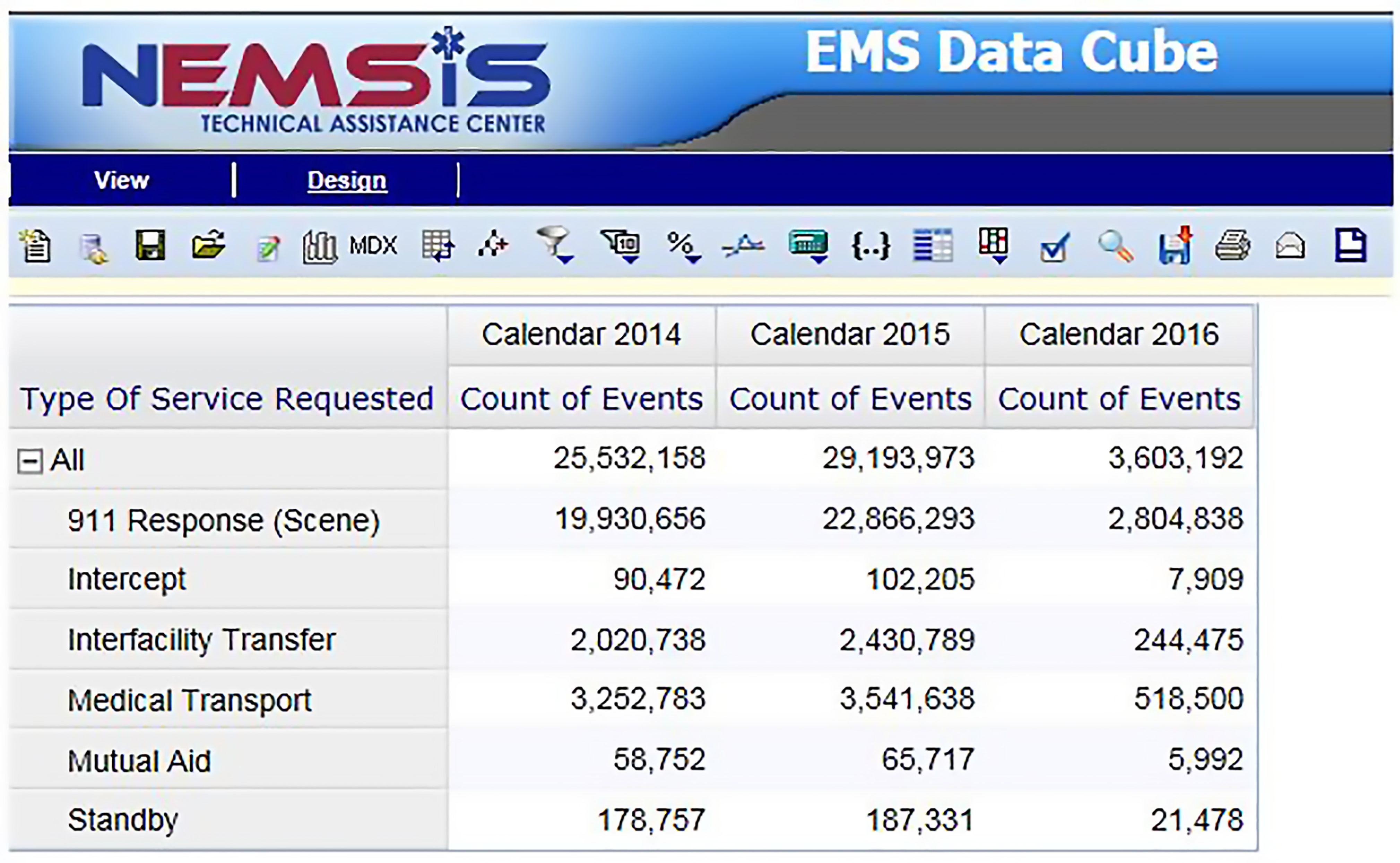 Requirements to Connect to the Explorer:
Use Internet Explorer (version 7.0 - 11.0 ) as your browser
Use the username and password provided to you by NEMSIS. (same as NDX)
Optional: Register nemsis.com as a secure site for proper exporting of data.
On your IE browser clic on Tools > Internet Options > Security tab
On the Security tab choose Local intranet and click on Sites and Advanced button
On the Add this website to the zone: enter https://www.nemsis.org and click Add button
WARNING!
Be aware that if your Internet Explorer settings are set to warn you about security, you might get the message below when trying to export: "To help protect your security, Internet Explorer blocked this site from downloading files to your computer. Click here for options..." To avoid losing your work ignore this message and click on the export icon again.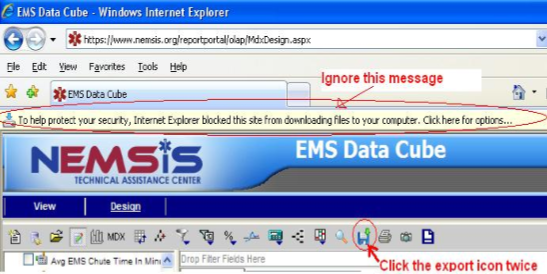 ---